Many years ago in the middle of summer vacation my life fell apart!. (It actually had not been truly together for several months, but I was in deep denial.) My "boyfriend" and I had just decided to move in together. I had given notice to vacate my apartment which I liked but he didn't and the management company had already rented it. Then he decided that he would go back to his old life which included a wife and family. My world felt shattered. My heart was broken. I hastily found a loft in the upper floor of a friend's home. I told him it was OVER, that I did not want any part of the life he was able to offer but I felt that my emotional world was irrevocably shattered. I felt that I could never trust myself again. My life was on the rocks.
Asilomar Beach
I noticed there was an ad in Science of Mind magazine for a spiritual retreat in California scheduled to take place the following week. It called to me. Somehow I knew I would find peace of mind there.
When I called to see if I could register, the woman told me that the conference was sold out but she asked me to hold. Evidently there had been a last-minute cancellation and I could take that spot, if I didn't mind rooming with two women I had never met before. I called the airlines and was able to book a flight from my home in Edmonton to Monterey, California.
My accommodations
The whole conference seemed to have been planned with me in mind. Every speaker and every workshop pointed me in the direction of personal empowerment, self-validation, love and integrity. Even my roommates were part of my healing. We would talk about spiritual ideas and how we could apply them to our lives. They were beautiful women full of love and willing to share their knowledge with me. We even shared our personal stories and histories. This is part of the transformation.
Both women had been in long-term love relationships with married men. Both of them shared that they would gladly marry the man in question if and when he ever left his wife. These relationships had been going on for years — five and fifteen! Both women had chronic, catastrophic illnesses although one of the women was in remission. My personal message could not have been clearer. This was a prophecy for my life, if I didn't grow a backbone and stop longing to be with a man who was not available, I too would ruin my health and live in sadness.
By Friday night I was still feeling uncertain about how I would cope when I got back home. It seemed so easy to be spiritual there in Asilomar, surrounded by like-minded people, feeling the Divine Presence, having released shame and guilt and moving steadfastly in the direction of my dreams. Would I be able to do what was in my best interests or would I cave in to the lies the man would be spinning?
That night our surroundings matched my consciousness. We were surrounded my a dense fog. My friend who was in remission suggested that I see her practitioner who was on duty in the Prayer Room. I made an appointment, poured out my heart to her, including the sordid story, and she saw the Truth of me for me. It was one of the most powerful prayers I had ever received. I was open and willing for a positive change.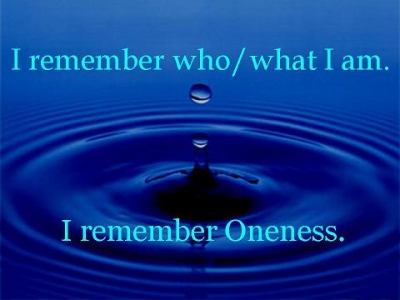 Remembering my oneness, I am empowered!
The next day, I was on the top of the world. I FELT the support of the Divine, in my surroundings and in my life. My new friends and I decided to go to the airport together. I misread my ticket and arrived 45 minutes after my plane had left for San Francisco. Because I was so centered in Truth and TRUST, I just asked the airline staff how I could get home. They arranged, AT NO EXTRA COST TO ME for an alternative flight out of San Francisco the next day. In the consciousness of transformation, fear and doubt had never crossed my mind. It was later that I realized how extraordinary that action was!
On that flight I met a very nice single man from Great Britain who was travelling North America for several weeks that summer. We exchanged phone numbers and even shared a ride to the airport. I invited him to come and see Canada while he was on vacation. Much to my surprise, he took me up on my invitation. He was willing on sleep on my couch. No sooner had I set up a make-shift bed on my couch when there was a knock on my door. Sure enough, it was Mr. Unavailable, begging me to let him come in for a little while. When I told him that I had company, he jumped to conclusions and yelled hysterically, "How could you do such a thing to me!!" I stayed awake. It was an experience of inner awakening! God is good, 24-7-365!
Have you ever had an awakening that helped you see life more clearly?